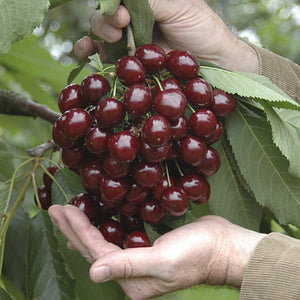 Soil: Deep, moist but well-drained soil
Flowering period/colour: April to May/White
Fruit picking time: Late July
Fruit size/colour: Large/Dark red
Pollination group: Self Fertile

Prunus 'Stella' is a self fertile sweet cherry . It has large sweet, juicy cherries, with a good flavour. The dark, glossy cherries are usually ready for picking in late July. Aside from the delectable cherries, this tree has an upright-spreading habit and a plentiful supply of mid-green leaves. In spring, the leaves are complimented by pretty white flowers which add another interest to your garden. This cherry is very productive when grown in a sheltered situation. This is a self fertile cherry, which will also help to pollinate most other varieties.